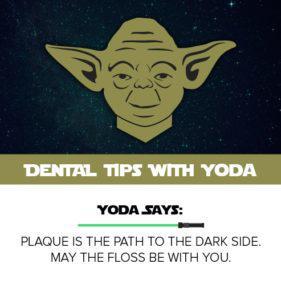 Star Wars Day Is Approaching Us!
Are you ready for the force to awaken? How about the floss? Either way, we want to make sure all those Star Wars fans get the most out of this celebration that happens once a year! We've decided to spruce it up a notch here at Lone Star Dental care. We love Star Wars Day so much, we decided to make a week-long event out of it.
If you're a total fan of this action-packed series like we are, you'll want to make an appointment with us anytime between Monday, April 29th and Saturday, May 4th. The hype at the office during our week-long celebration will have you running to your favorite dentist (not running away!).
Whether you're a member of the community, a friend of ours, or one of our neighbors, anyone and everyone are welcome to participate in the Star Wars Week fun here at Lone Star Dental Care! Stay tuned to our Facebook page to see all of the fun!
If your kids are in for an appointment next week, make sure to have them color one of our Star Wars themed coloring pages!
Always remember… MAY THE FLOSS BE WITH YOU!
Give us a call at 972-335-7100 to schedule an appointment.
Fun Star Wars Facts:
LUCAS' FIRST DRAFT OF THE SCRIPT WAS MORE THAN 200 PAGES LONG.
OBI-WAN KENOBI WAS ORIGINALLY SUPPOSED TO SURVIVE.
MARK HAMILL WAS PAID $1000 PER WEEK TO PLAY LUKE SKYWALKER.
YODA'S FIRST NAME WAS BUFFY.
HAN SOLO WAS SUPPOSED TO DIE.